Nightmare Vermont
October 26, 2019 @ 7:00 pm

-

10:00 pm

$15
Nightmare Vermont is a unique, all-volunteer, charity Halloween event in the U.S., combining live stage combat, original immersive theater, and all the best in interactive scares and special effects. The event has run in underground spaces and as part of other community events since 2004.  Thousands of people enjoy the show every year and we're looking forward to scaring your socks off in 2019.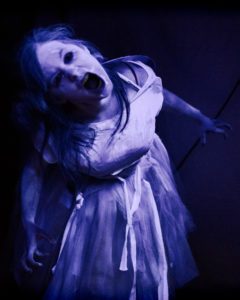 Showtimes: October 17-19, 24-26. Tickets to enter the show are available for timeslots between 7 and 10pm on Thursdays and Fridays, 6pm and 11pm Saturdays. Click BUY TICKETS above for specific showtimes. Click HERE for directions to the Expo.
New This Year: Nightmare Vermont 2019 features two attractions: an immersive theater event and a scare maze. Your timed ticket will get you into a high school prom gone horribly wrong. Natural disasters are not so natural, panic makes people dangerous, and someone is sending you threatening messages. Go into lockdown with Vermont's premiere haunted event. Once you've been through the theatrical show, you can test your mettle in the special effect-packed scare maze hosted by Green Mountains of Madness. Enjoy shopping spooky art vendors, grab a snack, and enjoy gloriously horror-themed performances from local artists.  Bring the whole family (leave the little kids at home) for thrills, chills, and a howling night of fun in the echoing bowels of the Grandstand at the Champlain Valley Exposition. Wondering what it will be like? Visit our frequently asked questions to learn more.
CAVERN After Hours at the Haunt Stay after the show Saturday, Oct. 19th for a goth-themed dance party with CAVERN. Fresh industrial and gothic music with top-notch DJ's, experimental cocktails, and dance in the performance space of the grandstand beginning at 11pm. $10 cover.
For Scaredy Cats: In keeping with Nightmare tradition, Ghost Wards are available at the door for $1. These are ornaments that will let you "ghost" the event. Ghosts are invisible to everyone in the event, including all characters.
For Thrill-Seekers: Monster Teasers are glowing ornaments which make you fair game to all the characters in the show. They may drag you about, get you messy, perform a little impromptu surgery on your person, and generally make you part of the show. ONE Teaser is auctioned off to every group UNLESS you pre-buy a teaser for your timeslot for $40. Contact tickets@nightmarevermont.org to check availability.
EXTRA BLOODY NIGHT will be the very last show on the last night of the run: Saturday, October 26th at 11:00pm. BE PREPARED: you will get DIRTY. You will get BLOODY. No one will be safe.
Charitable Mission: Nightmare Vermont is committed to supporting local charities and giving back to the community. We partner with Camp Exclamation Point, which is our signature charity again in 2019. Other charitable endeavors are our Northeast Haunters' Scholarship, Del's Ride and Essex Chips.